I don't intentionally have a theme for my picks, but I think I have been drawn to a certain color lately...
can you guesses?
Did you figure it out?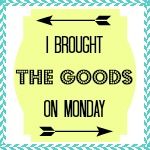 Remember to join "Give Me The Goods" every Monday!
Are you following me? Be sure to check out all my social media! I will be featuring my picks all week!!