Welcome to "Blue Christmas Blog Hop"!
Week 1:
Ornaments
When Amy asked if I wanted to be part of a "Blue Christmas" I was like sure!
Then I was like, oh crap, I don't have any blue for Christmas!
After having a minor heart attack and doing lots of brainstorming, I came up with these super simple DIY ornaments! And because I'm awesome, I even put together a tutorial for you!
(apologize in advance, this got kinda long...if you want to skip the "how to's" just scroll towards the bottom for lots of pretty pictures!)
What you will need:
Fabric
Sewing machine- basic straight line sewing skills
Heat n' Bond
Poly fill
Embroidery Floss
Step 1: Gather fabrics of your choice.
Step 2: Cut two 4in x 4in squares.
Step 3: Print off a silhouette
Tip- I used THIS tutorial for Photoshop Elements. If you want to go low tech you can do what my friend +Jenna LaFevor did HERE!
Step 4: Trace silhouette onto the paper side of a piece of Heat n' Bond
Step 5:
Following the instructions of your Heat n' Bond, adhere to WRONG side of a scrap piece of fabric and cut out shape.
Step 6:
Iron your cutout onto the RIGHT side of one of your 4 x 4 squares.
Optional Step:
If you want to add embroidery, do it now. Add it to the RIGHT side of your other 4x4 square. If not, skip this step.
Tip-for my embroidery pattern , I printed off a font on the computer and used carbon paper to transfer pattern directly to fabric. If you need tips on embroidery, this link HERE is great!
Step 7:
Now your ready to sew -we are basically making mini pillows.
Place wrong sides together and do a straight stitch around all four sides, leaving a 1 inch opening.
Step 8:
Turn right sides out and stuff with poly fill.
Tip- I use a chopstick to push out corners and make sure the filling gets in all the nooks and crannies.
Step 9:
Pin opening closed and run it back through the sewing machine as close to the edge as you can manage.
Step 10:
Using a piece of embroidery floss, knot one end and put it through the top right corner of your little pillow, then back through the top left corner. Leaving a couple inches slack, knot the other end and cut.
Your done!
Now you should have the cutest little ornament ever made!
Just imagine the possibilities! They are endless...I can totally imagine making some cute animal versions!
Maybe a cow?
or a horse?
or a fox ?!
I think these are so cute!
Since they aren't totally Christmas colors, do you I think I can leave them out all year?
What do you think?
If you have any questions be sure to leave a comment and I will do my best to answer them (you'll have to forgive me, I'm still learning to be an effective tutorial writer!)
And please please please if you use this tutorial to make your own DIY silhouette ornaments, let me know! I wanna see!
Now, since you survived that uber long post, you have to go check out the rest of the blog hop!
Sharing with: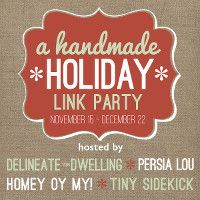 Frugal Crafty Home Blog Hop