now for my picks!
I must be in the Halloween spirit, because I picked several fun and easy Halloween ideas this week!
First up, this adorable tote!
Seriously think this would be the best trick-or-treat bag ever!
Aren't these junky pumpkins so fun!
I think this would be a great project for the kids!
This is such a fun idea!
I love candy corn and I love cupcakes!
Might be making these for our Halloween party!
Ok, so this one isn't really Halloweeny, but hello!
Don't you just want to cuddle on the couch with these and a big mug of hot cider!?
These are going on my must make list A-sap!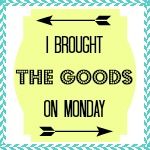 Remember to join "Give Me The Goods" every Monday!
Are you following me? Be sure to check out all my social media! I will be featuring my picks all week!!