now for my picks!
I have a fun mix of features for you today!
Isn't this so chic and SIMPLE! I would totally wear something like this year round...well, maybe without the witches hat! Haha!
Will someone make these for me...I have yet to learn crochet, but they are FABULOUS!!!
Amazing staircase transformation! I heart gel stain!
Pumpkin and Maple!?...I might have to splurge on these this week!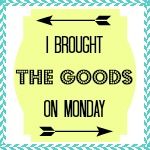 Remember to join "Give Me The Goods" every Monday!
Are you following me? Be sure to check out all my social media! I will be featuring my picks all week!!