Her house is HAPPY! I can see why this got most views!
now for my picks!
I love the simple updates that freshen up this place! Make sure you check out the before photos!
Simple and darling! I think I might be able to make these too!
Totally loving this idea! I know my sister ( and everyone else!) will be wanting to make these after seeing how easy it is!!
Sooooo cute! I love this idea...and washable! Holla!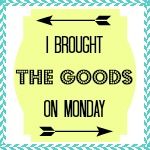 Remember to join "Give Me The Goods" every Monday!
Are you following me? Be sure to check out all my social media! I will be featuring my picks all week!!