now for my picks!
This little chair redo just plain makes me happy! Super creative solution to a problem!
I love the bold print on this! Plus its MAGNETIC!
I love knock-offs and I am totally going to search out some vintage wire baskets!
I love this idea! How dramatic and yet so simple!!!!!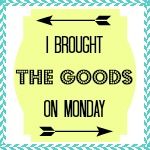 Remember to join "Give Me The Goods" every Monday!