now for my picks!
This light makeover using jute is so darn creative! Look at all the detail work!
I love clocks and I love old wood, so what is not to love about this!
If you have followed me long enough you know I'm a sucker for wooden boxes for storage.
I couldn't resit these teeny tiny baby shoes...aren't they precious!!!?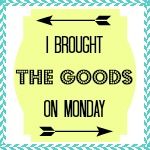 Remember to join "Give Me The Goods" every Monday!